Mercedes McNab (Harmony) Playboy Cover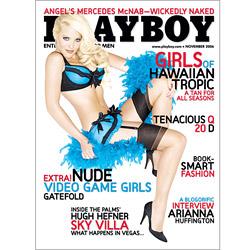 The second Angel alumni to grace the pages of Playboy, Mercedes McNab is featured on the November 2006 issue.

Cover : TV star Mercedes McNab

Playmate : Sarah Elizabeth

Interview : Arianna Huffington

20 Questions : Tenacious D

Pictorials : High-Performance Mercedes (Test-drive the curvy Mercedes McNab as the veteran of Buffy the Vampire Slayer showcases her softer side); Playmate: Sarah Elizabeth (The Florida panhandle sizzles with a dangerously hot Miss November); Poetry in Lotion (Meet the well-bronzed contestants of the Hawaiian Tropic International Pageant, now without their bikinis).

Features : Islam in the Crucible (The author of The New Iraq gives a firsthand account of the struggle to reclaim Islam from the terrorists who hijacked the religion); The Worst Break of My Life (The former lead singer of That Petrol Emotion tells how a man can weather a penile fracture); Welcome to the Next Level (A preview of Fall 2006 video games complete with our third annual set of slinky vixens); How Suite It Is (Take a peek inside the Hugh Hefner Sky Villa at the Palms Casino Resort Fantasy Tower in Las Vegas).