BUFFY & ANGEL CLADDAGH RING PROP REPLICA SET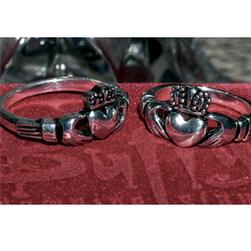 Remember the second season episode "Surprise"? Especially the scene on the docks with Buffy and Angel? "My people -- before I was changed -- they exchanged this as a sign of devotion. It's a Claddagh ring. The hands represent friendship, the crown represents loyalty... and the heart... Well, you know... Wear it with the heart pointing towards you. It means you belong to somebody. Like this. Put it on."

Genki Wear is proud to present the Buffy & Angel Claddagh Ring Prop Replica Set. Fully Licensed by 20th Century Fox, this silver plated ring set ships with both rings placed in a high-quality velvet jewelry box with the Buffy Logo impressed upon the cover. A perfect Holiday or St. Valentine's Gift to the One you love The Rings are size 9 and Size 6.