Buffy Season 2 Inkworks Card Binder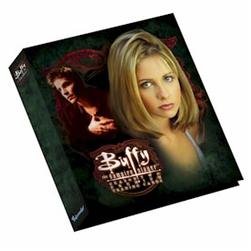 Inkworks has announced the upcoming release of the NEW Buffy the Vampire Slayer: Season Two binder. This item has been an empty space in many Buffy collections and is one of the most-requested Inkworks items.

"When we started creating Buffy the Vampire Slayer products, I thought that collectors would only need one binder to hold their cards." said Allan Caplan, president of Inkworks. "I was wrong. I didn't realize that collectors wanted one binder for each product, so we never created one for our Buffy: Season Two set. Since then, we have received countless requests from collectors to create a Season Two binder."

To reward collectors for their patience and persistence, Inkworks has created a special Buffy: Season Two promo card that will come with each binder (#B2-AL1) at no additional charge.