Inkworks Buffy Big Bads Sealed Box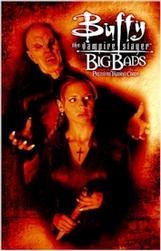 BUFFY BIG BADS is the new premium trading card set due out in late April from Inkworks. The 72-card base set of Buffy: Big Bads?is printed on ultra premium 18-pt. mirror foil board. Quantities of this exciting release are extremely limited!

Each box will have 24 premium packs and is guarantee to have one pieceworks card (also known as a costume part featuring an actual swatch of cloth from a screen-worn costume).

Here is the list of pieceworks
ADAM'S PANTS (SEASON 7)
DRU'S TOP (SEASON 2)
SPIKE'S T SHIRT (SEASON 5)
WARRENS JACKET (SEASON 6)
HALFREK'S TOP (SEASON 7)
D'HOFFRYN'S ROBE (SEASON 7)
LISSA (ASHANTI'S) OUTFIT (SEASON 7)

The set also will feature "Seasons of Evil" - A nine-card foil puzzle that features Buffy, her friends, and the Big Bads through the years.
"?The Other Side" - Six cards that feature the top Big Bads and their thoughts on the Slayer, plus three foil box loaders ?Triple Threat"