Charm School #7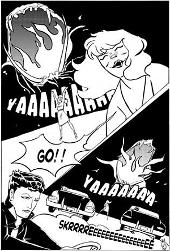 Black-and-white independent comic book from Slave Labor Graphics.

Charm School No. 7
"Dragster Vampire Dean"
Finally, Sweetheart's Day is here, and it's a bittersweet affair. Bunny finally finds out about that 'duel at nightfall' between Dean and Fairer Than, and decides to seek out the Dark Faerie herself for an explanation! Meanwhile, the Mouth of Pazuzu, otherwise known as the Demonic Gates, finally spring wide open. The drag race between Dean and Lucius the WereWolf into the Depth of Devil land is finally on, in "Hotroddin' To Hell and Back!!"