Moore Buffy's Willow Blue Pants figure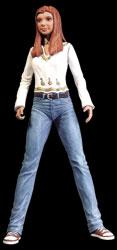 From the first Moore Action Figures collection, mint on card, action figure for Willow (Alyson Hannigan), sculpted by Clayburn Moore and Andre Jaume. Comes with backpack, 2 books, laptop computer and logo base.
Shy, bookish Willow Rosenberg is Buffy Summers' best friend. Her naiveté, honesty and loyalty make her the perfect confidant with whom to share her secrets. As one of the brightest students at Sunnydale High, her computer savvy and hacker skills are put to good use in gathering the necessary information to aide Buffy in her slaying missions.