Witch Girl Tales No. 1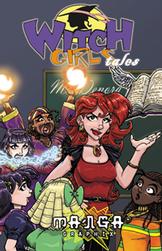 Following up on the success of Witch Girls #1:

Two witches does not make a world though and ?Witch Girls Tales? takes up where Witch Girls leaves off telling small stories about other denizens of the world, some good, some bad.. Also ?Witch Girls Tales? acts as a place for ?Witch Girls? fan to talk, show off their own story and art and to get information on our growing universe.