CHARMED #13 VARIANT PHOTO COVER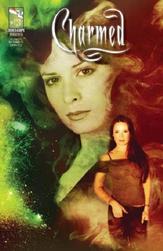 (W) Paul Ruditis (A) Reno Maniquis (C) A] David Seidman, B] Photo Cover Owning a restaurant of her very own has been Piper's dream for years. Now it's finally real. Opening night is a huge success and she's the talk of the town, but the additional workload--along with the magical turmoil of late--has taken a toll on her family life. A child's misguided spell has disastrous results as Piper learns whether or not she can truly have it all while she copes with a situation that would leave other moms quaking in their shoes. Bagged and boarded.
NOTE: You will charged only for the price of the item you are ordering plus 1 cent; no shipping will be charged but there is a 1-cent fee as our system requires a shipping amount in order to process orders. You can pick up your item(s) at the CineQuest.com booth at 90s Con 2023, March 17,18,19 at the Connecticut Convention Center in Hartford , CT. To pick up your order, please bring your receipt (either printed or on your phone) along with a photo ID matching the name of the person who placed the order. Orders must be picked up by noon on Sunday, March 19; orders not picked up will be refunded less 50% restocking/carrying fee.