Charmed Destiny 72-card Set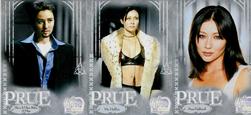 The new collection Charmed fans have been waiting for?

The Charmed Ones' destiny was sealed eight years ago when Phoebe read aloud the first spell from the Book of Shadows. They have alternately feared, embraced, cursed and loved their fortune. But in the end, they know they can never deny their fate because the world is a better place with the Power of Three.

"It's no longer a choice for us. This is who we are."
Piper Halliwell in Witch Way Now?