Charmed Forever Padded Trading Card Binder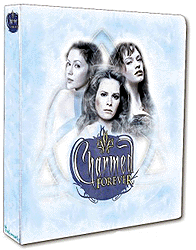 Long before the sisters ever became the Charmed Ones, the Triad designed a plot to destroy the powerful witches. But in the end, nothing and no one would be able to conquer the determination of Piper, Phoebe and Paige to insure that the Halliwell family would remain?Charmed Forever.

This is the three-ring padded binder designed to hold the Inkworks Charmed Forever 72-card premium trading card set.