Angel: Not Forgotten Paperback by Nancy Holder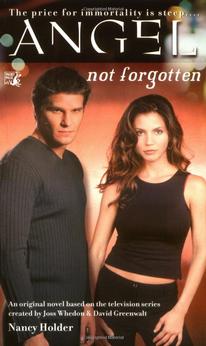 A crime wave has swept the Los Angeles area, which under normal circumstances would be par for the course. But nothing links these particular victims except the cause of death -- their bodies were burned from the inside out. Obviously supernatural forces are at work.
While Angel investigates the murders, Cordelia tracks down a band of child pickpockets. Surprisingly, both searches lead to the same place: a wealthy slumlord who has all but imprisoned the children's immigrant parents.
And conducts elaborate rituals to Latura, the Indonesian God of the Dead.
Angel, Doyle, and Cordelia may have had a rocky start in L.A., but they realize they've got it much easier than the immigrants. Characteristically, Angel wants to help. But can he free them before the Feast of Latura? And if not, will they become the next sacrifices of someone's quest for immortality?
Paperback by Nancy Holder.
NOTE: You will charged only for the price of the item you are ordering plus 1 cent; no shipping will be charged but there is a 1-cent fee as our system requires a shipping amount in order to process orders).You can pick up your item(s) at the CineQuest.com booth at 90s Con 2023, March 17,18,19 at the Connecticut Convention Center in Hartford , CT. To pick up your order, please bring your receipt (either printed or on your phone) along with a photo ID matching the name of the person who placed the order. Orders must be picked up by noon on Sunday, March 19; orders not picked up will be refunded less 50% restocking/carrying fee.