Angel Novel: Redemption by Mel Odum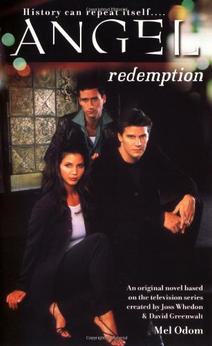 Even if it takes an eternity, he will make amends... DÉJÀ VU DEMON When their investigation agency books a walk-in client, Angel, Cordelia, and Doyle couldn't be happier. Whitney Tyler is a beautiful, widely adored actress who plays a vampire on a popular television series. Trouble is, a cult of viewers seems to think she's a real vampire, and has made attempts on her life. Cordelia has got stars in her eyes now that she's rubbing elbows with Hollywood's elite, and Doyle's just relieved to have signed on a case that didn't start with a vision -- and a blinding migraine. But when Angel lays eyes on Whitney, he's astounded -- she's the spitting image of a young woman warrior whom he encountered during his early days as the scourge of Europe. As the attempts on Whitney's life continue, the trio uncovers a symbol that links the perpetrators to an ancient cadre sworn to battle creatures of the night. But what could connect Whitney to someone that Angel once knew -- almost two centuries ago?
NOTE: You will charged only for the price of the item you are ordering plus 1 cent; no shipping will be charged but there is a 1-cent fee as our system requires a shipping amount in order to process orders).You can pick up your item(s) at the CineQuest.com booth at 90s Con 2023, March 17,18,19 at the Connecticut Convention Center in Hartford , CT. To pick up your order, please bring your receipt (either printed or on your phone) along with a photo ID matching the name of the person who placed the order. Orders must be picked up by noon on Sunday, March 19; orders not picked up will be refunded less 50% restocking/carrying fee.