Charmed #7 Emerald City Comic Con Exclusive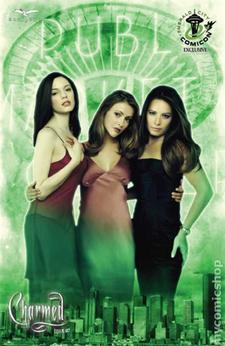 Emerald City Comicon Exclusive photo cover limited to 500. An all new 5 issue story arc starts here! Great jumping on point for new readers. Piper is distraught when she finds that her baby daughter has the same orbing power as her part-Whitelighter aunt Paige and worries that it could put her children at risk again as it did when Wyatt was born. Leo decides to make a visit to the Elders for an explanation and is given an intriguing offer but one that would seriously affect his future with Piper. Meanwhile Neena has teamed up with a Darklighter as the two set forth on a Whitelighter killing spree in order to absorb their abilities. Now that she has taken control of the Underworld, Neena has set her sights on the Upper Regions and things are about to heat up!
NOTE: You will charged only for the price of the item you are ordering plus 1 cent; no shipping will be charged but there is a 1-cent fee as our system requires a shipping amount in order to process orders. You can pick up your item(s) at the CineQuest.com booth at 90s Con 2023, March 17,18,19 at the Connecticut Convention Center in Hartford , CT. To pick up your order, please bring your receipt (either printed or on your phone) along with a photo ID matching the name of the person who placed the order. Orders must be picked up by noon on Sunday, March 19; orders not picked up will be refunded less 50% restocking/carrying fee.