BUFFY BOOK OF VENGEANCE BOXED FIGURE SET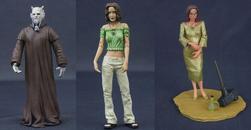 This boxed collection of figures is based on the storyline of one of the series' most popular characters. This new release is a follow-up to the "Willow Spellbook Set," which sold out quickly upon release and garnered praise from both retailers and fans alike.

This window box set includes a "Fear Itself" Anya (featuring an alternate paint scheme) and Anyanka - the two very different sides of the popular character portrayed by actress Emma Caulfield. In addition, Anya's demonic mentor D'Hoffryn (who transformed her into a vengeance demon), makes his exclusive debut in this boxed set as an all-new sculpt!