Topps High School Musical 50-card base set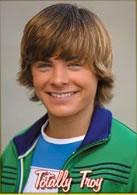 Topps just released a set of cards based on the newest pop craze: Disney's High School Musical!

If you're a parent, you know that this is the property that all the kids are talking about. In fact, you've probably sat through countless viewings of the TV movie - and you may have even caught yourself humming one or two of its infectious dance tunes. High School Musical is "Grease" for today's generation and a unique success story that crosses over multiple media outlets: tremendous ratings, record-breaking DVD sales, and a soundtrack album that topped the Billboard charts and just won't go away.

And this is just the beginning. High School Musical 2 premiered on the Disney Channel last week and broke cable viewing records with more than 17 million viewers catching the latest musical chapter in the story of the Wildcats!

This 50-card base set features images from High School Musical 1 & 2!