Indiana Jones Official Magazine #1 (Variant Cover)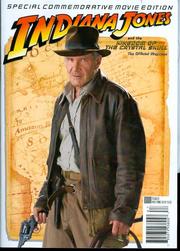 The Indiana Jones and the Kingdom of the Crystal Skull official movie magazine is here, and its 100 pages are packed full of information about the new movie:


Who is Indiana Jones?
The professor is back and ready for adventure. But are you ready for him? Rediscover the man beneath the fedora, his friends, enemies and dangerous quests with this dig down memory lane.

The Making of Indiana Jones and the Kingdom of the Crystal Skull
Can't wait for the new Indy adventure to hit a multiplex near you? Don't panic! Take a journey from script to screen with the cast and crew of Kingdom of the Crystal Skull, including:



The incredible story behind Indy's rebirth
Harrison Ford! Dr. Jones himself talks stunts, sidekicks and wielding his trusty whip.
Steven Spielberg and George Lucas on returning to the franchise.
Action Special! High-octane chat with the power-punching people behind the movie's amazing stunts.
SFX secrets revealed!
Never-before-seen photographs from the movie!
Cast, costumes, the music, and much, much more!
The Facts Behind the Fiction
Discover the true real-life stories that form the myths behind the Crystal Skulls and learn about the Communist movement supported by the movie's villains.

With photos, interviews and info galore -- this OFFICIAL magazine is the ultimate companion for any Indiana Jones fan!