Rogue Angel #1 Teller of Tales (New Comic Series)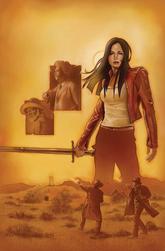 Barbara Kesel (w); Renae De Liz (a); Rebecca A. Wagner (c)
Gold Eagle's novel heroine comes to comics for the first time! Annja Creed is a world-traveling archeologist who also happens to be the heir to Joan of Arc's mystic sword. In this debut miniseries, Annja's drive to explore unrecorded, shadowy history leads her to Virginia City in search of a rumored manuscript that could change the public perception of Mark Twain forever. But a very powerful mystery man doesn't want anyone to find the truth, and will stop at nothing-not even murder-to keep Annja away from the answers she seeks. Written by Harvey Award-nominated writer Barbara Kesel and featuring art by Renae De Liz.


NOTE: This is a preorder slated to ship in March (subject to change without notice by the publisher). Your credit card will be charged when the item is about to ship to you. Preorder and pay only $3.00 flat rate shipping in the U.S.