THE SPIRIT MOVIE PREMIUM TRADING CARD SET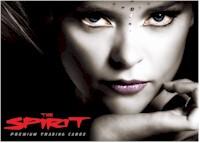 Adapted from the legendary comic strip, THE SPIRIT is a classic action-adventure-romance told on the big screen by genre-twister FRANK MILLER. It is the story of a former rookie cop who returns mysteriously from the dead as THE SPIRIT to fight crime in the shadows of Central City.

The Spirit Premium Trading Cards captures all the action and amazing imagery of this ground-breaking feature film.