SDCC 2018: SUPERNATURAL 17" STANDUP 3-PACK EXCLUSIVE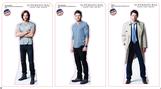 As always, we'll be at San Diego Comic Con this summer and will be bringing more great new Supernatural exclusives!
This amazing three pack of licensed standups, produced exclusively for CineQuest.com by Advanced Graphics, features sturdy desktop versions of Sam and Dean (the brothers Winchester) and everyone's favorite trench-coated angel, Castiel! Each stands 17" tall x 5" wide (once popped out of the protective card), is made of heavy card stock and comes with an individual peel-and-stick easel.