SDCC 2022: CHARMED PIN CLUB COLLECTION W/BANNER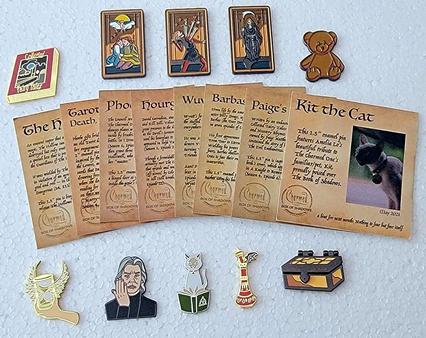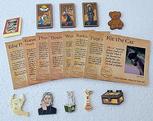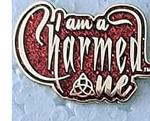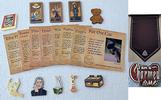 Holzheimer Distribution has put together the only complete collection of the fully licensed Charmed: Box of Shadows Pin Club pins – 10 in all – and is including a free 11"x17" triquetra-logo'd cloth pin banner to display your new collection. The enamel pins include a three-pin glow-in-the-dark Tarot Card set, Barbas the Fear Demon, Paige's Fairy Tale Book, the Hourglass of Tempus, Phoebe's Genie Bottle, the flip-top Hollows box, Kit the Cat and Wyatt's stuffed bear, Wuvey. Each collection also comes with an exclusive set of matching collector cards explaining the background of the character/item on each pin. The entire set is packed in an easy-to carry exclusive 2022 convention tote bag. This collection has a retail value of $150.
NOTE: You will charged only for the price of the item you are ordering plus 1 cent; no shipping will be charged but there is a 1-cent fee as our system requires a shipping amount in order to process orders. You can pick up your item(s) at the CineQuest.com booth at 90s Con 2023, March 17,18,19 at the Connecticut Convention Center in Hartford , CT. To pick up your order, please bring your receipt (either printed or on your phone) along with a photo ID matching the name of the person who placed the order. Orders must be picked up by noon on Sunday, March 19; orders not picked up will be refunded less 50% restocking/carrying fee.