MARY WINCHESTER REPLICA CHARM BRACELET (PEWTER)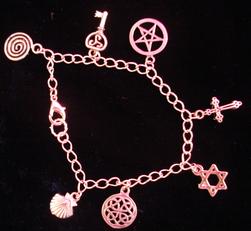 This handmade recreation of the bracelet worn by hunter Mary Winchester is done up in pewter charms on a nickel-free, silver-plate bracelet and features some wonderful and powerful symbols: a cross, an Egyptian ankn (the key of life), a triquetra (familiar to Charmed fans and a symbol of the three inherent feminine powers: Mother, Crone, and Maiden), the quarternary knot design (a symbol of protection representing the four elements: earth, fire, water and air), the moon, a Star of David, the ritual athame knife and a chalice.

This imported hand-made bracelet measures 7 inches (18cm) and each symbol is a little less than half an inch (1cm). The bracelet feature a selection of protective symbols and comes in a gift pouch.

This bracelet is also available in sterling silver elsewhere on the site.