SUPERNATURAL FINALE: CELEBRATING 15 YEARS WINCHESTER BROTHERS STANDEE SET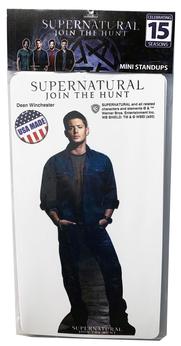 We're celebrating the 15th season of Supernatural - and COMIC-CON@Home with an exclusive time-spanning cardboard standee set.
This officially licensed set of four 12" tall standees features the brothers Winchester, Sam and Dean, as they appeared early on in the record-breaking series (it premiered Sept. 15, 2005) and as they appear in later seasons of the longest-running live fantasy show in television history.
With the last episodes of the final (and 15th season) of Supernatural set to premiere this all, and the series finale on Nov. 19, have the brothers close by (on your desk, nightstand, bookshelf) as the emotional story of the Winchesters approaches the end.
Limited to 100 sets worldwide.