SUPERNATURAL "BLOODLUST" LENORE VAMPIRE VARIANT MINIBUST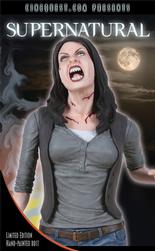 Limited to 250 pieces, this was originally intended as a San Diego Comic-Con but was released in connection with CineQuest.com Buffy Boston Bash 2010.

This exclusive 7.5? minibust features Buffy the Vampire Slayer star Amber Benson as vampire Lenore with her ?game face? on from the ?Bloodlust? episode of The CW?s hit series Supernatural.