Amber Benson Signed Willow/Tara Together Forever Set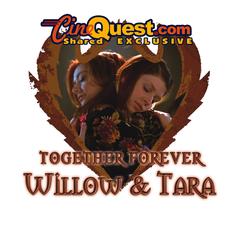 We recently held a private signing with Amber "Tara" Benson in San Diego and came back with some great signed items....and a great experience having spent some time with one of the loveliest people we've met.

This Willow & Tara Together Forever set is in mint condition and is personally autographed by Ms. Benson and makes a great keepsake for fans of one of Sunnydale's favorite couples!

CineQuest.com has teamed with Diamond Select Toys and Moore Action Collectibles to produce a special Willow & Tara "Together Forever" Set, featuring variant figures of everyone's favorite Wiccan couple, Willow Rosenberg and Tara Maclay.

Willow & Tara ?Together Forever? CineQuest.com Exclusive Set - This two-pack blister carded set contains variant figures based on Sunnydale?s resident Wiccans ? and fan-favorite couple ? Willow Rosenberg (Alyson Hannigan) and Tara Maclay (Amber Benson), painted as they appeared in the spine-tingling Season 4 episode, ?Hush? in which they begin to show feelings for one another. The set comes with a purse, love candle, mortar and pestle, wooden floor base, and a mini figure of the couple?s beloved cat, Miss Kitty Fantastico.

Willow and Tara were one of the first long-term lesbian couples in prime-time television history. They inspired fans throughout their run on Buffy with their clear love for one another and with how the show treated them - as a normal couple who happened to be gay.