No Place Like Plrtz Grlb Lorne 6" figure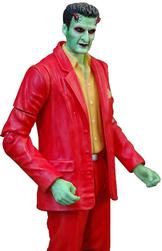 Based on Lorne as her appeared in the episode "No Place Like Plrtz Glrb," ths 6-inch figure comes with removable head, platter, basket and the infamous books bearing the images of the Wolf, the Ram and the Hart. Features 14-16 points of articulation. Sculpted by Gentle Giant and individually blister carded.

This is a limited chase figure meaning there was only one per case of the Wesley/Lorne release.