BARBIE GRACE KELLY DOLL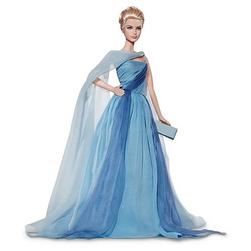 The elegant Grace Kelly in Barbie!
Barbie Doll beautifully captures Grace Kelly's charm!
Take home the 1960s Hollywood star today!
Grace Kelly is a global icon, a famous princess, and an Academy Award-winning actress who starred in the 1955 romantic thriller To Catch a Thief. Grace Kelly looks stunning in her blue gown inspired by the opening scene of To Catch a Thief, set in the French Riveria. This dress truly captures Grace's elegant style. The doll stands about 11 1/2-inches tall, but cannot stand alone. For ages 6 and up.