Danger Girl 3D Mint Unopened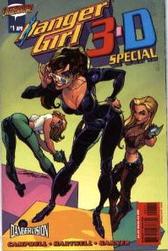 Danger Girl #1 3-D
DANGER GIRL 3-D Written by J. Scott Campbell and Andy Hartnell; art and cover by Campbell and Alex Garner

It's the Danger Girls in Danger-Vision! Re-presenting the rare 8-page Danger Girl preview story (from the GEN13 #25 Voyager Pack) and the 32-page issue #1 in 3-D, this unique Special also includes a 3-D cover gallery of some of the best and most notorious DANGER GIRL covers ever! The eye-popping effects are brought to you by the master of 3-D comics, Ray Zone! A pair of 3-D glasses featuring cool graphics by J. Scott Campbell is included with each issue.