"Lost" 15-card Preview Set: Only 1500 made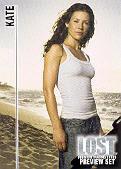 Get "Lost" with this special 15-card preview set from Inkworks, featuring the main characters of this year's hottest cult hit!

Inkworks' 15-card "Lost" Preview set of premium trading cards based on the two-hour pilot episode of the new hit ABC series. The set includes images and profiles of the main characters.