SDCC 2012: EXCLUSIVE FEMME FATALES TRADING CARD PREVIEW SET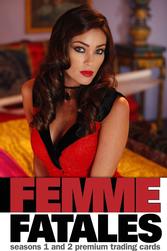 This CineQuest.com Exclusive Femme Fatales Trading Card Preview Set gives a look at our upcoming Femme Fatales Seasons 1 and 2 Premium Trading Card release, set for late 2012.

This four-card preview pack features gorgeous images from the upcoming Femme Fatales Season One and Two Premium Trading Card Set, which will include images from the hit series, now in its second season on Cinemax, as well images from the classic Femme Fatales magazine. The card set, scheduled for release in early 2013, will also feature autograph and costume cards as well as special chase sets.

Limited to 250 sets worldwide.