TRUE BLOOD #5 (OF 6)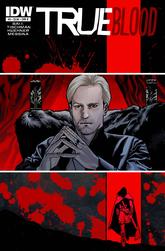 David Tischman, Mariah Huehner (w) o David Messina (a) o Messina, Joe Corroney (c) Sex with his hot teacher has disastrous results for the teenaged Jason, but it's Lafayette's coming-of-age story, and how it may have affected his psychologically fragile mother that gives the Imp Shaloop-the spirit holding them hostage-a rise. Will Bill get to his story before daylight, and why does Sookie think the trickster spirit may be hiding the biggest secret of all? The truth is black and white-and red all over.

Ships with two regular covers; order 2 copies and get one of each sent to you, bagged and boarded.