Battlestar Galactica #1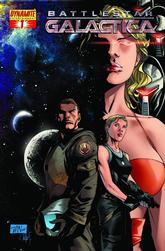 by Greg Pak & Nigel Raynor
The biggest comic book event of 2006 begins here as Dynamite Entertainment launches the all-new, Battlestar Galactica comic book series, based on the all-new "re-imagined" Series airing on SCI-FI! Picking up from the final pages of the best-selling #0 issue, Battlestar Galactica #1 features the ongoing creative team of writer Greg (Planet Hulk) Pak and artist Nigel Raynor! Joining the inside team is an all-star cast of cover artists: Michael Turner and colorist extraordinaire Peter Steigerwald, Billy (Uncanny X-Men) Tan, and Nigel Raynor! And as an extra added bonus for hardcore fans, Dynamite is showcasing a photo cover of the cast and crew of the BSG! The storyline is an "untold tale" taking place between seasons of the popular show, and features the return of characters not seen since the smash mini-series that re-launched Galactica to critical acclaim. One of four different covers will be shipped at random.