Battlestar Galactica #4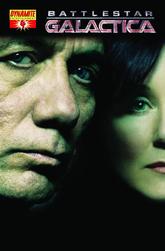 by Greg Pak & Nigel Raynor
In this issue, all of your questions are answered about the fate of the Returners, and the status of the infected Galactica crew! Plus, see Commander Adama in action as you've never see him! Featuring another stunning, out-of-this-world array of covers by Tyler Kirkman with Stjepan Sejic, E-Bass, Nigel Raynor, and a Photo Cover, all shipped in an equal ratio! Random cover will be shipped with order.
.