JIM BUTCHERS DRESDEN FILES STORM FRONT #1 (OF 4)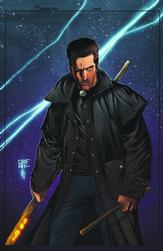 by Jim Butcher, Mark Powers & Ardian Syaf

Following hot on the heels of the bestselling The Dresden Files: Welcome to the Jungle, the Dabel Brothers are proud to bring another chapter in the Dresden saga - The Dresden Files: Storm Front. Meet Harry Dresden, the only practicing wizard listed in the Chicago yellow pages - and the only person Chicago P.D. calls when they encounter a case that just can't be solved using traditional methods. Harry's unique gifts allow him to see beyond the everyday world into a strange realm of magic and monsters. Unfortunately for Harry, the pay isn't all that great. When the police call Harry in as a consultant on a brutal double homicide, he quickly finds himself tangled in a web of missing persons, murder, and black magic!