JIM BUTCHERS DRESDEN FILES STORM FRONT #2 (OF 4)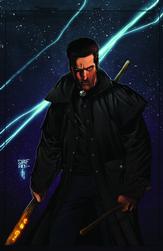 by Jim Butcher & Mark Powers, & Ardian Syaf Harry Dresden is haunted by dark secrets of his past and stalked by a dangerous gangland king as he confronts the powerful vampiress Bianca and continues his investigation into the bizarre disappearance of businessman Victor Sells. Overseen by creator Jim Butcher, The Dresden Files: Storm Front brings the first of his best-selling Harry Dresden novels to life. Storm Front is guaranteed to grab readers with its gripping blend of mystery and fantastic adventure!

NOTE: This is a preorder slated to ship in December (subject to change without notice by the manufacturer). Your credit card will be charged when the item is about to ship to you.