JIM BUTCHERS DRESDEN FILES STORM FRONT #4 (OF 4)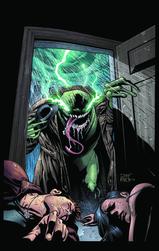 by Jim Butcher, Mark Powers & Ardian Syaf Surrounded by enemies and distrusted by even his friends, Harry's efforts to solve a brutal killing are complicated as he finds himself the leading suspect in the crime! Overseen by creator Jim Butcher, The Dresden Files: Storm Front brings the first bestselling Dresden Files novel to life. Storm Front is guaranteed to grab readers with its gripping blend of mystery and adventure!

NOTE: This is a preorder slated to ship in February 2009 (subject to change without notice by the publisher). Your credit card will be charged when the item is about to ship to you.