The Dresden Files: Welcome to the Jungle #1 (2nd Printing Variant)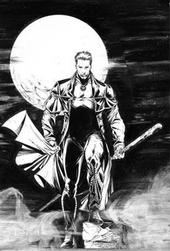 by Jim Butcher & Adrian Syaf; cover by Marat Mychaels
From Dabel Brothers Productions. Harry Dresden is on the case again, this time investigating the brutal mauling of a security guard at Chicago's Lincoln Park Zoo. But Dresden isn't a mere private detective looking for a murderer. He's a wizard, able to interact with the magical world around our own, and able to see that there's much more to this case than a simple animal attack. With only 24 hours to solve the crime and catch the killer, Dresden quickly goes from being the hunter to being hunted himself. Welcome to the jungle, Harry... Due to overwhelming demand, The Dabel Bros. are thrilled to bring you this second printing of The Dresden Files: Welcome to the Jungle #1.

Written exclusively for comics by New York Times bestselling author Jim Butcher, Welcome to the Jungle is a brand new story set in the world of the wildly popular sci-fi series of novels, The Dresden Files, that's sure to enchant readers with a blend of gripping mystery and fantastic adventure!