EUREKA DORMANT GENE #2 (OF 4)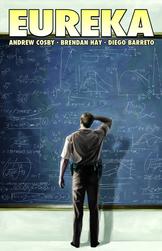 W) Andrew Cosby, Jonathan L. Davis (A) Mark Dos Santos
The Sci-Fi Channel's smash hit show returns for another series masterminded by the creator of the show, told completely in continuity! It's high school shenanigans in Eureka as Zoe falls for the new guy in school who has everybody talking. But what she doesn't know is that the stud used to be a dud! Covers by J.K. Woodward.