FARSCAPE DARGOS TRIAL #4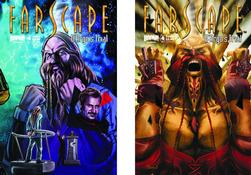 (W) Keith R.A. DeCandido (A) Caleb Cleveland The origin of one of Farscape's most fascinating characters concludes. D'Argo faces a Peacekeeper court for a crime he didn't commit - the murder of his wife! In the middle of such injustice, D'Argo's life becomes even stranger when his only hope for freedom is Bailar Crais! Covers by Jason Palmer and Caleb Cleveland.

NOTE: This is a preorder slated to ship in November (subject to change without notice by the publisher). Your credit card will be charged when the item is about to ship to you.