FARSCAPE GONE & BACK #4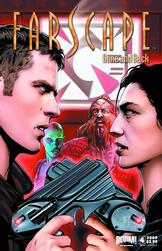 (W) Rockne S. O'Bannon, Keith R.A. DeCandido (A) Tommy Patterson John Crichton and Aeryn Sun, together again for the first time! Crichton, Zhaan, D'Argo, and the tracker Roiin have infiltrated the Peacekeeper ship, where they have found Lieutenant Sun! What does she do when she comes face-to-face with a complete stranger, one who says he's loved her for years and is the mother of their child? Covers by Joe Corroney and Dennis Calero.

NOTE: This is a preorder slated to ship in November (subject to change without notice by the publisher). Your credit card will be charged when the item is about to ship to you.