Serenity: Better Days #2 of 3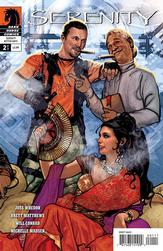 Joss Whedon returns to the world of his blockbuster film Serenity with the three-issue comics series Better Days.

Better Days revisits everyone's favorite space cowboys in this thrilling, action-packed adventure, with Mal and his crew on a heist that promises a big payoff--what's surprising is that this heist just might make good on that promise.

Whedon reunites with Brett Matthews and Will Conrad, his collaborators on the best-selling 2005 series Those Left Behind. Adam Hughes joins the team for covers.

* Prequel series to the blockbuster film Serenity by Joss Whedon.

* Front covers by critically acclaimed Adam Hughes.

* Serenity: Those Left Behind has sold over 85, 000 copies!

Joss Whedon and Brett Matthews return to Serenity!