Heroes Hardcover Alex Ross Cover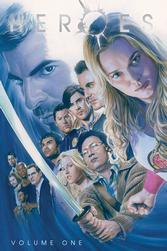 Written by Aron Eli Coleite, Chuck Kim, Joe Pokaski, Oliver Grigsby, Pierluigi Cothran, Andrew Chambliss, Harrison Wilcox, Jesse Alexander, Christopher Zatta, Mark Warshaw and others Art by Phil Jimenez, Michael Turner, Koi Turnbull, Marcus To, Peter Steigerwald, David Moran, Micah Gunnell, Travis Kotzebue, Jordan Kotzebue, Jason Badower, Staz Johnson, Steve Lejeune, Adam Archer, Mark Roslan and others Covers by Jim Lee and Alex Ross

This stunning hardcover collects the amazing online comics based on the smash-hit, Emmy Award-nominated NBC show HEROES! This volume - featuring two stunning covers by comics legends Jim Lee and Alex Ross - also includes an introduction by Masi Oka (Hiro), all 34 chapters of Season One, and Tim Sale's artwork as seen on the show. The comics included have been written and illustrated by some of comics' and television's top writers and artists, including Michael Turner, Phil Jimenez, Marcus To, and more!