Saving the World: A Guide to Heroes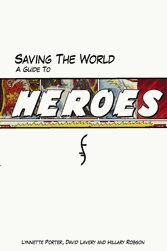 Save the Cheerleader, Save the World.

With that immediately memorable mantra, Heroes became the top?rated new series of fall 2006. Featuring such archetypal characters as one with a split personality, one who can fly, one who can see the future, one who can time travel ? and the evil villain out to steal all of the powers for himself ? the show touches our inner comic book fan, even if we?ve never cracked open a comic book.

Saving the World: A Guide to Heroes will include essay analyses of the many reasons that keep Heroes? audience tuning in each week. Authors Lynnette Porter, David Lavery, and Hillary Robson are experts in the field of television analysis, having penned books on Lost, Buffy the Vampire Slayer, Deadwood, Seinfeld, The Sopranos, and many others. In this book, they will explore the history of comic books making their way to the screen, and how this show has been affected by the decades of comic book superheroes that precede it; the series? archetypal characters; the fandom surrounding the show; its link to other current series such as Lost; creator Tim Kring and how he is the driving force behind the show.

The book will include brief episode guides of each installment of the series.