LOST The Hatch Boxed Playset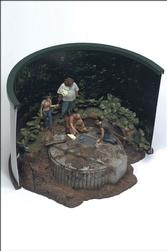 What's in the hatch? The mystery kept viewers glued to their sets for weeks, and now, the hatch can be yours! This deluxe set includes action figures and a fantastic display base. The Hatch Deluxe boxed set will replicate the opening of the outside of the hatch as depicted in the season one finale, and will include small scale figures of Kate, Jack, Hurley and Locke a hatch scene diorama base, a photographic background and a light feature to simulate the light that came from the underground door.

U.S. Customers: This item will ship separately from other items in your cart and an oversize shipping charge will be added to your invoice due to the size and weight of the item.

NOTE: For international customers, an estimated shipping charge on this large item will be charged. If more postage is needed, we will email you with the total additional postage that must be paid.