Smallville Official Magazine #18 (Variant) Green Arrow Cover!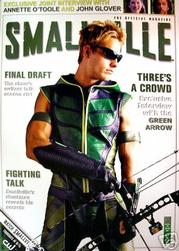 IN THIS ISSUE...


JUSTICE LEAGUE UNLIMITED!


Fans who enjoy seeing other future super-hero characters appear on Smallville alongside the boy who will become the Man of Steel will be thrilled to find out that the show runners promise a ?very big event? when the series returns, and it?s going to involve the Justice League of America! The season?s 11th episode, Justice , features the early formation of the legendary band of super heroes.



PLUS...



OLIVER QUIVER

Justin Hartley arrives in Smallville as millionaire playboy Oliver Queen and costumed vigilante, the Green Arrow. We caught up with the Emerald Archer as he prepares to don his tights and dive right in to season six.


FINAL DRAFT


Todd Slavkin and Darren Swimmer have been with Smallville since the second season. Debuting their new regular writers' feature in Smallville Magazine, the pair talk about the increasingly important stories they bring to the show.


FAMILY BUSINESS


LuthorCorp?s operation is more battlefield than family business as Lex Luthor and his father, Lionel, lock horns in an unending battle for supremacy. Smallville Magazine dons its security pass to go undercover and take an in-depth look at the menacing family enterprise.

MEET THE PARENTS


She?s the kind and caring mother of Smallville?s hero. He?s the Machiavellian father of Clark Kent's future nemesis. So what brings these two together? Annette O?Toole and John Glover talk from the Smallville set about the budding romance between the unlikely pair.


RISKY BUSINESS


He may not be a household name, but Chris Sayour creates the spectacular stunts that make Smallville so sensational to watch. Smallville Magazine finds out about the method behind the stunt co-ordinator?s madness.


SMALLVILLE ORIGINAL FICTION: TOY Part Two


Despite Clark?s confusion over Lana?s affection for Lex, he?s still on the trail with Chloe for clues to her mysterious disappearance. Meanwhile the grotesque toymaker paces in his lair, watching his captive prize?