Smallville Season 6 Trading Card Set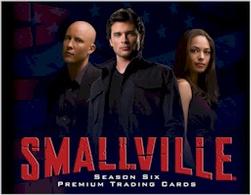 The new set captures the action-packed story of Clark Kent as he becomes more comfortable with his strength and abilities. The 90-card set includes episodic coverage and new subsets like ?Phantom Menaces,? ?Faces of Justice,? and much more!

NOTE: This is a preorder slated to ship in January 2008 (subject to change without notice by the publisher). Your credit card will be charged when the item is about to ship to you.