Frank Miller Stargate/Robocop FCBD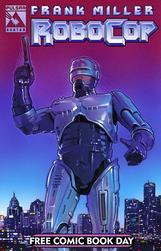 Cover: Matt Busch
By: Frank Miller, Juan Jose Ryp, Renato Guedes
Format: Color, 32 pages
Sponsorship level: GOLD

At long last, Frank Miller's Robocop finally sees the light of day! Robocop was one of the truly great bits of movie and pop culture magic from the 80's, and the cult of Robocop continues strong to this day. In full-on action, the Robocop story is told as Frank Miller always intended, composed straight from the master's original writings and scripts! With sequential adaptation from Steven Grant and art by superstar Juan Jose Ryp, the series will feature covers by Frank Miller, who is personally supervising the creation of the entire project. It's guaranteed to be pure Miller insanity! Also included in this book are pages from other upcoming Robocop books, due out soon. This amazing sampler book also features the debut of Stargate SG-1 from Avatar! With six seasons of shows currently on air and a seventh season coming, Stargate SG-1 has become a bona-fide media phenomenon. Now the smash science fiction series is brought to sequential life for the first time with this special preview of the upcoming series. Starring the original cast, these new stories are filled with the action, adventure, and drama that walking through the Stargate creates!