Xena #4 (new comic series)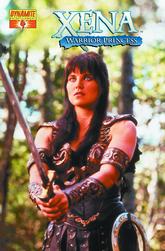 by Layman, Neves, Garcia, Isanove, Neves and Batista
Dynamite's special Xena event - "Contest of Pantheons" - continues from writer John (Red Sonja) Layman and Fabiano Neves! The Warrior Princess is no stranger to death, but when she and Autolycus enter the realm of Hades, they find that all is not as it should be with the Lord of the Dead! Artist Adriano (Red Sonja) Batista provides another stunning Xena cover along with regular cover artist Neves and another thrilling photo cover shipping in an equal ratio! Buy four and get all four covers. Orders of less than four will receive random covers.