Xena #5 (Dynamite comic series)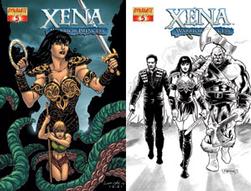 WRITTEN BY JOHN LAYMAN, ART BY NOAH SALONGA; COLORED BY CHRIS GARCIA; COVER ART BY: AARON (INCREDIBLE HULK) LOPRESTI (25%) FABIANO NEVES (25%), PHOTO (25%) AND STJEPHAN SEJIC (25%)!


Part 1 of a New Storyline launches here! Writer John Layman returns and he's joined by artist Noah Salonga as they present the return of Dark Xena!


Taking place some time after the series finale of Xena: Warrior Princess and before the events of the "Contest of Pantheons." - featured in DYNAMITE'S XENA #'S 1-4 - "Dark Xena" finds Gabriele making a request of the Gods and learning that you must be very, very careful, what you wish for, and how you wish for it! Xena is Dead, Long Live Xena.. er.. Dark Xena that is, and by Dark, we mean just plain Nasty...Mean... and Evil...


NOTE: This is a preorder slated to ship in December. Order four of this title and receive all four covers mentioned above. Orders of less than four will receive random covers.