Xena Vs. Callisto Signed David DeVries Exclusive Print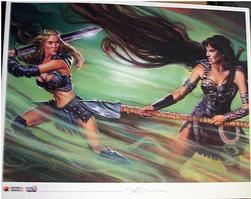 Xena the Warrior Princess and her evil arch-enemy Callisto match spear against sword in this action-packed lithograph by fan favorite comic book artist
Dave DeVries. Painted with a savage grace reminiscent of Frazetta, DeVries has also lent his signature to this valuable collectible that no Xena fan
should be without.

An Another Universe exclusive. Only 1,500 made. Measures 22" x 28". Printed on heavy stock. Comes with certificate of authenticity.