Xena Warrior Princess comic No. 1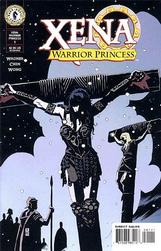 Written by: John Wagner
Pencilled by: Joyce Chin
Inked by: Walden Wong
Cover by: Mike Mignola

Join Xena and Gabrielle as they wander the lands of ancient Earth, waging war on the powers of evil and oppression every month. Featuring the prose abilities of John Wagner (Judge Dredd) and the artistic excellence of Joyce Chin (Xena) and Walden Wong, this book is going to be the seminal periodical of the new millennium! Kick off the fall television season with the new comic. Battle on, Xena!